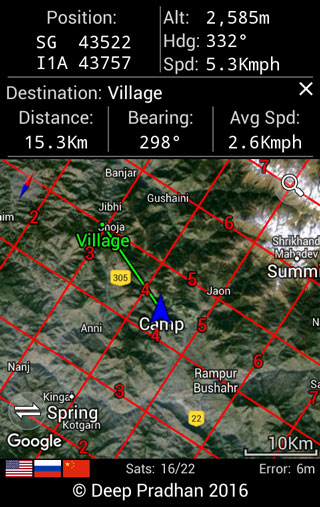 Deesha is an award winning, completely free and offline app which allows you to use your Android device with location sensor (GPS/GLONASS/BeiDou/Galileo) for off road navigation.
Major Features
Displays location in Indian Grid System and other major formats.

Geodetic format/Longitude and Latitude (in either Decimal Degrees, Degree Decimal Minutes or Degree Minutes Decimal Seconds).
GEOREF (World Geographic Reference System), with configurable decimals for minutes.
Indian Grid System (with support for all Zones and Grid Letters).


Note

:

If you are not sure of which Zone to use, please refer to the map you are using and read about Indian Grid Zones.
Deesha will suggest Zone, however the official extents of the zones are not known. You may choose to disable this.

Military Grid Reference System (MGRS).
Universal Transverse Mercator/Universal Polar Stereographic (UTM/UPS).

Datums

:

For Indian Grid System - 'Indian (India, Nepal)' Datum will be used.
For all other formats (i.e. Geodetic, GEOREF, MGRS and UTM/UPS) - 'WGS 1984 (World Geodetic System 1984)' Datum will be used.

Navigation to saved Waypoints, specified locations, Photo GeoTag and shared locations.
Map View with panning and zooming option, displaying device Waypoints, own position and Grid Overlay. Also map images (PNG & JPEG format) can be configured to be displayed. Optionally Google Map based maps can also be used.
Waypoints support, with option of export to/import from, CSV/GPX/KML file.
Area & Perimeter calculation, with option to save defined area to KML file.
Conversion between supported location formats. Batch Conversions are also supported.
GeoTag a captured photograph. Deesha will also register to open JPEG files to read any Exif location tags.
Projection from a location to another location.
Satellites Information for GNSS (Global Navigation Satellites System) and SBAS (Satellites Based Augmentation System) satellites. Also, A-GPS data management and Satellite derived high accuracy time.
Sun and Moon information for specified location and time with graphical depiction of the Moon.
Sharing/Copying of locations - current, saved (Waypoint), converted and projected location.
Support for shared locations.
Computation of location is non dependent on availability of internet/mobile network. However, availability of a network may lead to a shorter time to first fix on devices with A-GPS (Assisted GPS).
---
Download & Install
Deesha on Google Play Store. Do rate and review the app.
Notes:
The application requires the following permissions:

Precise location (GPS and network-based).
Access extra location provider commands - to request A-GPS Data download and to manually clear A-GPS.
Control vibration - for alerts/notifications.
Modify or delete the contents of your USB storage - to export/import Waypoints.
Prevent device from sleeping - to continuously display information.
Read contact data - to send SMS for sharing location.
Receive text messages (SMS) - to monitor messages with location.
Test access to protected storage - to export/import Waypoints.

The application will consume battery at a faster rate than normal operation due to the use of location sensor and the device backlight staying on.
In case you encounter any errors in the application or to give feedback, please feel free to get in touch with the app developer.
▲